!!! PLEASE NOTE
!!!
FEBRUARY RETREAT IS NOW CLOSED
Please choose one of the following…
---
Limited Edition "Treasure Trove" Guide
couriered to your door
Do you feel drawn to creating some quiet, graceful time out with yourself at the start of February?
To really pause, go within and strategize your year ahead
A subtly different and elegant start to this important and big year looming
January tends to be quite stressful for most of us – we get so pressured from all sides (Hint: mostly ourselves) to do better and be better and it's all about the HYPE of the year and getting cracking isn't it…..when truthfully we are usually exhausted after the festive season. So many commitments, financial stress, and family relationships to navigate and we land up feeling bad about our choices just one week into the year  – when all our best intentions and resolutions have already laughed loudly at us.
It's usually all hype and no continuity.
You have probably already lost sight of what you committed to over New Year
OR
you haven't even set up 2023 strategically yet?
Then the reality of the year kicks in as we ease towards February…..this is when it's a perfect time to go within and greet ourselves. To really do some deeper work. Reflect on the highlights and challenges of last year (if you haven't already done so over the year's end) to harness your gifts and dreams to embrace 2023.
The start of February is a Celtic tradition called IMBOLC when we finally welcome the promise of longer days, and things that have been hibernating can slowly start coming to life again. It's also a time of cleansing rituals and fire!  So too with the ideas and dreams we hold in our hearts…..we can slowly bring them out into the open and take some steps toward them this year. Purposeful steps in the right direction.
When last did you PAUSE. IMMERSE. REFLECT.
This 4-day Virtual Retreat is being offered after the uber-successful New Year Retreat we just completed…..and the February one has been designed to go deeper into what you really want to embrace for this year. Letting your heart lead, rather than your over-planning head that usually kicks into gear in Jan!
I am also including 4  x private mentoring sessions to support you before, during and after your retreat to ensure continuity as you integrate your wisdom into your life and move from the inner to the outer world.
Experience your 4-day VIRTUAL RETREAT PROCESS with Bespoke Treasure Trove Booklet couriered to your door to bring the retreat processes alive! The 4 x 1:1 Sessions cover the following:
Preparation before Retreat
Support during Retreat
Integration after Retreat
Application follow-up one month later
---
Imagine this …
After you signed up for Kate's Unique February Virtual Retreat, the doorbell rings and you receive a beautiful box couriered to your door with strict instructions NOT to open it until you start your Retreat.
It was so hard to keep your 'paws' off your beautiful package and today, Feb 2nd feeling like an excited kid on your birthday, you FINALLY get to peek inside and break open the special wax seal to reveal your treasure trove guide booklet – all bespoke made with love on Iona, by Kate!
Oh, the sweet agony of wondering what's in store for you over the next 4 days. Your heart instinctively knows it's going to be a memorable way to embrace the year ahead!
What, oh what will your heart reveal?
What are you going to bring to life this year?
What choices are you going to make?
By surrendering to your quiet retreat –  you know ideas will drop effortleslly into your heart. You are truly ready to gift yourself this time to allow the year to BREATHE ITSELF INTO YOUR SPACE. Doing it differently to years gone by and stop repeating the "goblin-cave" theme that was prevalent in 2022!
Slowing down with mindful grace – rather than rushing headlong off in the wrong direction.
 – A PAUSE BEFORE YOU LEAP –
---
💙 

VIRTUAL RETREAT REVIEWS 2022 /23

💙
Virtual Birthday Retreat Dec 22 "Our Queen of Retreats Founder Caroline Sylger Jones has just completed a wonderful,
private, virtual retreat guided by brilliant coach@kateemmerson_retreats over her birthday. Using visual and voice
prompts beautifully created by Kate, each morning and afternoon over four days, Caroline looked back over the last
12 months, took stock, paused, and set her intentions for the next 12 months.
She absolutely loved it 💚 and would thoroughly recommend it…
If you want to gift yourself or a friend the samep ause and honour yourself with Kate Emmerson's Virtual Retreat"
Iole Matthews -Head of Coaching & Consulting at Bright Horizons NEW YEAR '22:
Kate's virtual retreat was a brilliant opportunity to gain so many of the  benefits of a retreat but at home  – perfect for carving out time when you cannot manage the luxury of travel and days away. The beautifully hand crafted material shared, shaped each day around cleverly crafted exercises, and with Kate just a message or call away each morning and afternoon, it was clear I was being held in the hands of an expert facilitator. Over four days I was able to reflect, review and re-align so that I emerged feeling much more centred and confident for the year ahead. I would definitely recommend this to anyone wanting to find some structured and supported thinking time when an onsite retreat is not possible.  I have continued to use the booklets and box for a daily touchstone practice. As with all of Kates's experiences this is transformative.
Peet van Jaarsveld – CEO Blue Future, South Africa- NEW YEAR  22/23:
I found the retreat most useful and amazing. Whereas I am typically good at setting goals and making resolutions, I often ignore deliberate reflection on the previous year. I discovered there is a lot to gain from doing this with some focus. I was surprised that despite a feeling of having "survived" the previous year, how much I actually accomplished, and that assisted me with prioritizing the areas for goal setting for the coming year as well as taking some recognition for progress and accomplishments. I was surprised by what progress I actually made and the positioning I have achieved for the New Year which made goal setting so much more fun and effective.
The retreat modules were lovely, nicely designed and prompted reflecting and pondering with the heart, rather than just flying with the pen and writing and overthinking. I also think that the retreat material being in hard copy paper  (classy paper) and pen gets you away from being connected online like many apps force one to be. I mean we had fire, paper, ribbons, voice notes, postcards, envelopes and classic folders in our set.
The facets the retreat covered included reflecting on "ushers" that helped us in the previous year, also made sure that one thinks about other people and not just your solo journey.
I would highly recommend that you start the next calendar year or next birth year with a program like this and with Kate by your side.
Evert and Caroline Netherlands NEW YEAR 22/23:
It was very powerful to dive into this retreat together. We enjoyed four days of reconnecting with ourselves and each other on a level we did not foresee. We still talk about the insights the exercises gave us, and we feel that we are equipped with the energy and strength to continue on the positive path we laid out. The booklet and visual tools added depth to the exercises. They gave something tangible to hold on to, to write on, and to inspire us in thoughts and action. We don't think we would have gotten as much out of the retreat without the booklet. As bonus, the content was crafted with great care and creativity, so we also enjoyed the unwrapping of each day. 
---
💙PAUSE. IMMERSE. RECONNECT💙



You have never done anything quite like this Virtual Retreat before, but this has all felt like perfect timing for you ti embrace '23
Right reason, right time and with just the right amount of support with Kate guiding you.
As you break the wax seal and dive into your first treasure, you just know the next four days are going to be marked with purpose, meaning and ritual. You take a deep breath, make some coffee and relax into the first exercise Kate has offered you, as you open your first voice-note instruction ….you listen to Kate's soothing and inspirational voice guide you step-by-step.
You know deep down you are in brilliant hands with a kind and supportive professional, because you read all the reviews of folk who have trusted going on retreat with Kate before you …..and you felt it was "perfect" for your start to the year. And you loved the idea of being able to work from home with the very special "treasure trove" booklet you are holding now.
You appreciate that Kate will be on hand for the 4 days, and you aren't alone in this process. You feel completely held and know you will GREET THIS YEAR differently for once.

And gosh, last year pulled out all the stops in terms of curve balls thrown at you, crossroads and thresholds to navigate constantly and it was a grueling end of the year to put it mildly. Excessive stresses, demands, loss after layered loss and relentless decisions you've had to navigate.
"This virtual retreat provides a much-needed container to help you tap into your inner wisdom to set up your year ahead with purposeful intention."
---
💙 WHAT THIS VIRTUAL RETREAT DELIVERS 💙

Sacred and Strategic Pause to focus on your life and business plans for 2023
1 :1 Support with Kate over the 4 days from 2- 5th February 2023. Other private dates can be booked upon request!
Kate's special bespoke Limited Edition Treasure Trove Booklet couriered to your door GLOBALLY
A totally unique approach combining carefully crafted audio prompts and beautiful visual tools
Feel loved, supported and expertly guided by Kate, from ANYWHERE in the world
All the benefits of a retreat without having to leave home!
---
💙 RECOGNISE YOURSELF? 💙
* Did 2022 reveal massive crossroads that you've no idea how to navigate in 2023?
* Were you at the very bottom of your pile last year and ready to release that pattern?
* Are you at a loss trying to figure out what to put love and energy into now?
* Have you had a helluva time and can't fathom embracing life in its fullness?
* Have old patterns and stuck energy been running (ruining) things?
* Has life been relentlessly challenging and you experienced burnout last year? 
* Was '22 all about everyone else, from partner to kids, to work and left you exhausted?
* Wish to figure out how to plug in & commit to new projects, new countries &  new ideas showing up?
* Curious to strategize & bounce back from being Retrenched, Retired, Break up or Sold Business 
* Wondering how to fly solo as this year kicks off after a recent loss, divorce or break-up?
* Kids have flown the nest and wondering how best to invest all your free time?
* Looking for a different way to up your self-care going forward?
* Do you feel like you want to be mindful and take time to plan your year strategically but have no idea how to do it?

Are you simply looking for a way to PAUSE BEFORE YOU LEAP
A SACRED AND STRATEGIC way to embrace 2023?
---
STEP ONE: After you have booked your Retreat
Kick off with a Private 1:1 session to prepare for your Retreat
You will be emailed Kate's guide ahead of your session in order to prepare. This ensures you are set up well in advance to make the most of your Retreat Investment
STEP TWO:
Immerse into your personalised 1:1 Virtual Retreat with Kate: 2-5th February 2023
This is where you dive deep into your RETREAT space at home, supported by Kate
Take time out to tap into your heart and desires, looking back in order to harness all that you experienced and learned in 2022. Use the gifts and challenges from the year gone by as your foundation for 2023.
Set up the year with inner wisdom, grace and ease.
* Bespoke Handmade Treasure Trove is couriered to you worldwide
* Unique exercises to explore from your treasure booklet daily – tweaked just for you
* Clear voice-noted instructions to move through your step-by-step process
* Daily WhatsApp support at designated times – Kate will be available 2 hours every day
* 1:1 Session booked in over the weekend with Kate to harness what's unfolding
* Your Virtual Retreat will be personalised to ensure you get what YOU need from your UNIQUE TIME.

STEP THREE:
Personal 45 min Integration session within 3 days of your Retreat to walk your wisdom into the world. Kate will help you take the gifts from your retreat and pull them through into your year ahead.
STEP FOUR:
Personal follow-up 30 min activation session one-month post Retreat to ensure all your insights are aligned and being consistently LIVED into.



DEPOSIT £750 to confirm
Limited to 8 spaces!
Balance

£745 due 31st January
OR
3 x payments of

£525 
Deposit + 2 monthly installments

MAXIMUM 8 CLIENTS
PLEASE NOTE: Other dates can be done upon request
---



💙 IS THIS VIRTUAL RETREAT  IDEAL FOR YOU? 💙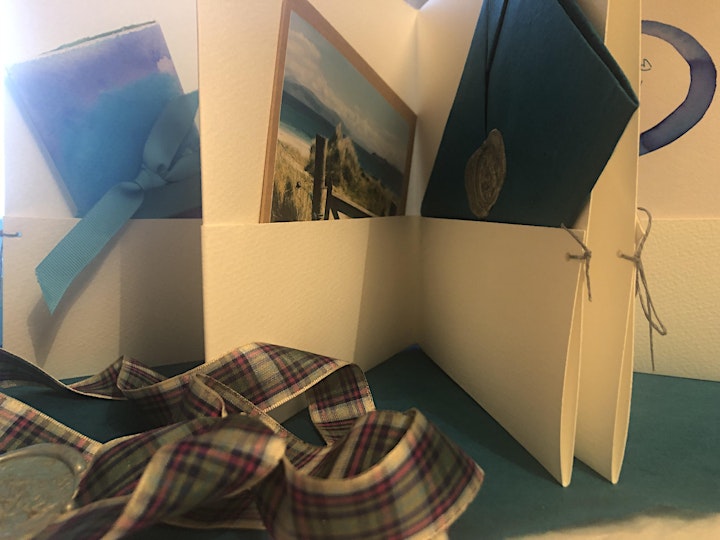 You are ready to slow down and embrace your year in the right way
You want Structure with Flexibility
You feel drawn to PAUSE. IMMERSE. RECONNECT
QUIET INTROSPECTIVE TIME is called for to set off on the right track
You want a personalized, flexible retreat even though it's VIRTUAL.
You love the idea of 1:1 Supported Retreat time to go deep into your quiet reflection, alongside 1:1 support from Kate
You are excited about opening your bespoke, LIMITED EDITION' Treasure Trove to guide your Retreat
You adore being surprised and thrilled and really need some delight in your life to inspire your heart
You can carve out a minimum 4 hours a day – or immerse completely for the 4 days
You want to stay at home and feel loved and supported
You are travelling but know you can fit in 4 hours per day around these dates
You want to feel an inner connection about greeting and embracing 2023 
---
💙 THIS RETREAT IS REALLY NOT FOR YOU 💙
You want all face-to-face sessions with Kate (Travel to Iona for a bespoke private retreat)
You are looking for a one size fits all approach with a low price point
You need to know everything included in your couriered bespoke gift before it arrives
You love chasing everything that comes your way again – no discernment
You have to know all the processes ahead of time
Sorry then this VIRTUAL RETREAT is just NOT for you, and there is something else out there better suited for you.
---
---